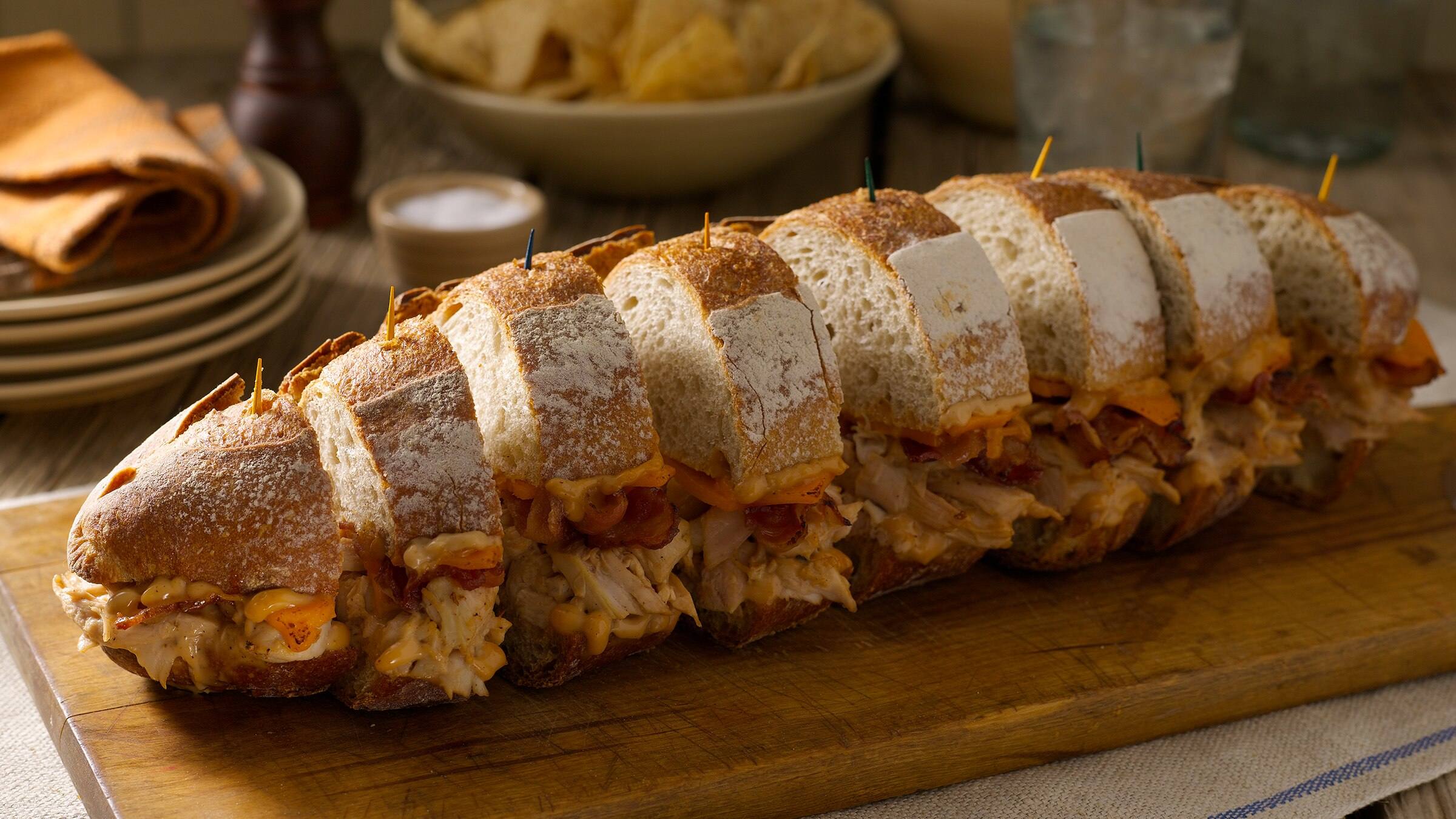 Talladega Turkey Sandwich
NUTRITIONAL FACTS
Servings4
Value
| Amount Per Serving | Value |
| --- | --- |
| Energy (kcal) | 660.0 |
| Total Carbohydrates (g) | 41.0 g |
| Fibre (g) | 2.0 g |
| Sodium (mg) | 1070.0 mg |
| Fat (g) | 33.0 g |
| Saturated Fat (g) | 10.0 g |
| Trans Fat (g) | 0.0 g |
| Cholesterol (mg) | 135.0 mg |
| Iron (mg) | 20.0 % |
| Vitamin A | 4.0 % |
| Vitamin B12 | |
| Vitamin C | 0.0 % |
| Calcium (mg) | 15.0 % |
| Sugar (g) | 8.0 g |
| Protein (g) | 47.0 g |
4 People

Servings

15 Mins

Prep Time

2 Mins

Cooking Time

17 Mins

Ready In
1/3 cup Hellmann's® or Best Foods® Real Mayonnaise
1/3 cup barbecue sauce
1 loaf (12 in.) Italian bread, halved lengthwise
1 lb. sliced cooked turkey, coarsely chopped
4 slices bacon, crisp-cooked
4 slices sharp cheddar cheese (about 2 oz.)
Combine Hellmann's® or Best Foods® Real Mayonnaise with barbecue sauce in small bowl. Spread 1/2 of the mixture on bread.

Toss turkey with remaining Mayonnaise mixture. Evenly arrange turkey on bottom 1/2 of bread, then top with bacon and cheese. Broil until cheese is melted.

Replace top of bread. Cut into 8 slices and secure with wooden toothpicks.
More Recipes You'll Love
Explore our range of delicious, quick and easy recipes!