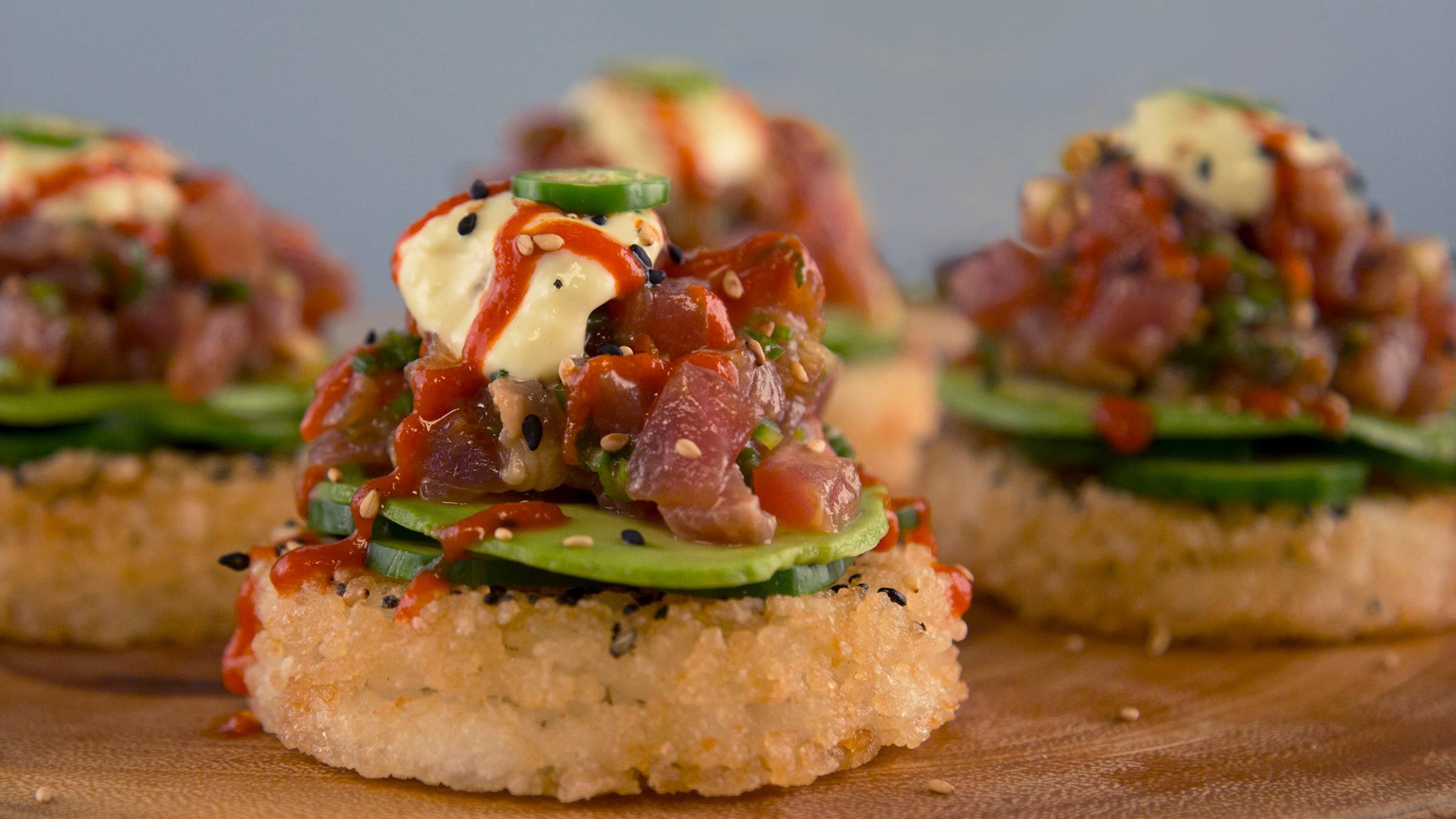 NUTRITIONAL FACTS
Servings6
Value
| Amount Per Serving | Value |
| --- | --- |
| Energy (kcal) | 0.0 |
| Total Carbohydrates (g) | 0.0 g |
| Fibre (g) | 0.0 g |
| Sodium (mg) | 0.0 mg |
| Fat (g) | 0.0 g |
| Saturated Fat (g) | 0.0 g |
| Trans Fat (g) | 0.0 g |
| Cholesterol (mg) | 0.0 mg |
| Iron (mg) | 0.0 mg |
| Potassium (mg) | 0.0 mg |
| Vitamin A | 0.0 IU |
| Vitamin B12 | |
| Vitamin C | 0.0 mg |
| Calcium (mg) | 0.0 mg |
| Sugar (g) | 0.0 g |
| Protein (g) | 0.0 g |
6 People

Servings

30 Mins

Prep Time

5 Mins

Cooking Time

35 Mins

Ready In
GINGER WASABI MAYO:
1/2 cup Hellmann's® or Best Foods® Real Mayonnaise
2 Tbsp. wasabi
2 tsp. fresh ginger
SPICY TUNA:
1 lb. sushi-grade ahi tuna, cubed
1/4 cup minced green onions
2 Tbsp. rice vinegar
1 Tbsp. soy sauce
1 Tbsp. toasted sesame oil
1 Tbsp. Sriracha sauce
2 tsp. minced serrano chile
RICE CAKES:
3 cups cooked sushi rice
3 Tbsp. rice vinegar
3 Tbsp. sugar
Black and white sesame seeds
Peanut oil for frying
1 seedless cucumber, sliced into 1/4-inch thick rounds
1 bunch shiso leaves, (optional)
1 avocado, pitted, peeled and sliced thin
Sriracha sauce
Sesame seeds
Sliced serrano chilie
Soy sauce
For Ginger Wasabi Mayo, combine all ingredient in bowl. Cover and refrigerate.

For Spicy Tuna, combine all ingredients in bowl. Cover and refrigerate.

For Rice Cakes, season cooked rice with rice vinegar and sugar. Line a small cookie sheet with waxed paper and spread rice into 1/2-inch thick layer. Cut out rounds with a 3-inch cutter. (Rice can be remolded if you didn't quite get 6) Place rice rounds on a waxed paper-lined cookie sheet. Sprinkle with black and white sesame seeds and freeze at least 1 hour.

Preheat oil in a deep Dutch oven to 350°. Carefully fry rice cakes until golden brown.

Shingle cucumber slices over each rice cake and top with shiso leaves and sliced avocado. Top with a hefty scoop of Spicy Tuna, a dollop of Ginger Wasabi Mayo, a squeeze of Sriracha, a sprinkling of sesame seeds and one thinly sliced round of Serrano. Serve with soy sauce for dipping.
More Recipes You'll Love
Explore our range of delicious, quick and easy recipes!