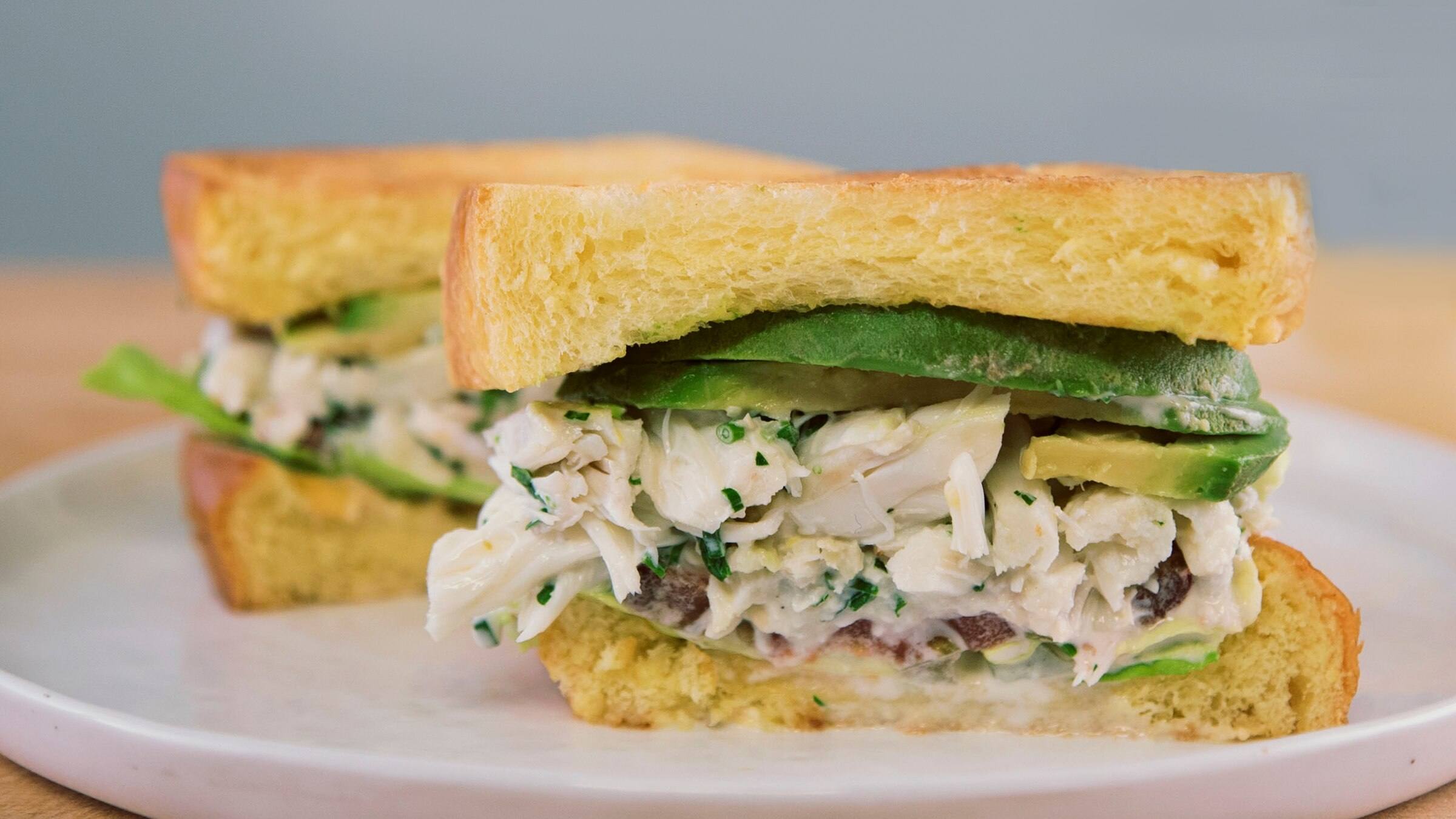 Crabby Goddess Strangewiches
NUTRITIONAL FACTS
Servings4
Value
| Amount Per Serving | Value |
| --- | --- |
| Energy (kcal) | 0.0 |
| Total Carbohydrates (g) | 0.0 g |
| Fibre (g) | 0.0 g |
| Sodium (mg) | 0.0 mg |
| Fat (g) | 0.0 g |
| Saturated Fat (g) | 0.0 g |
| Trans Fat (g) | 0.0 g |
| Cholesterol (mg) | 0.0 mg |
| Iron (mg) | 0.0 mg |
| Potassium (mg) | 0.0 mg |
| Vitamin A | 0.0 IU |
| Vitamin B12 | |
| Vitamin C | 0.0 mg |
| Calcium (mg) | 0.0 mg |
| Sugar (g) | 0.0 g |
| Protein (g) | 0.0 g |
4 People

Servings

20 Mins

Prep Time

0 Mins

Cooking Time

20 Mins

Ready In
12 ounces jumbo lump crab meat, picked through
1/2 cup Hellmann's® or Best Foods® Real Mayonnaise
Grated peel and juice of 1 lemon
3 Tbsp. olive oil
3 Tbsp. minced fresh chives
2 Tbsp. chopped watercress
2 Tbsp. chopped fresh tarragon leaves
2 Tbsp. chopped fresh parsley leaves
1 clove garlic, minced
8 slices lightly toasted brioche bread
8 slices ripe tomato
8 Bibb lettuce leaves
1 avocado, sliced (optional)
Combine crab meat, Hellmann's® or Best Foods® Real Mayonnaise, lemon juice and peel, olive oil, chives, watercress, tarragon, parsley and garlic in medium bowl. Season, if desired, with salt and pepper to taste.

Load 4 slices toasted brioche with crab salad, tomato, lettuce and avocado. Top with remaining brioche. Enjoy!
More Recipes You'll Love
Explore our range of delicious, quick and easy recipes!